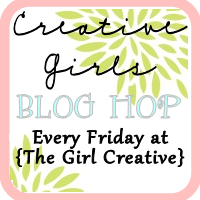 I'm SO excited about this new blog hop I've linked up to!
I've done other "Blog Hop" linky parties, but I love to read blogs about crafting. This party is for blogs that are just that! Creative, crafty blogs!
So if you have a "creative" blog, head on over and link up.
You don't have to do a post about it (like some blog hop parties make you do to join), I'm just so excited about this one that I had to share with all of my creative bloggy friends!
PS - here's a sneak peak of my giveaway that's coming up!